The lack of a gym (or at least the lack of a good gym) has unnecessarily thwarted many a plan to get fit. The emphasis should be on "unnecessarily." The fact is you don't really need a gym. Cave men got fit by wrestling wooly mammoths and running from saber-tooth tigers.
For thousands of years, warriors from all different cultures stayed trim by practicing their craft. Yes, even in the times immediately preceding the invention of the gym, bodybuilding pioneers were using railroad ties as resistance for strength training.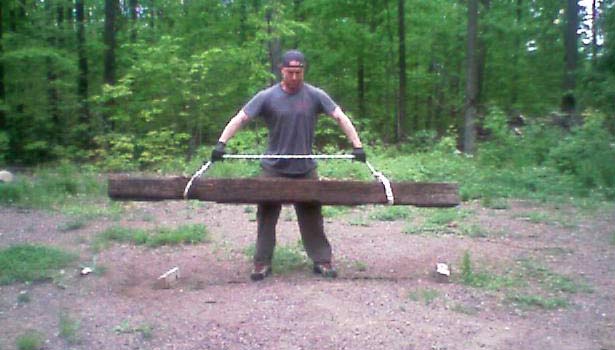 What I'm essentially saying is, "Where there's a will … there's a way."
In today's article, I want to issue you a challenge. With safety being in the forefront of your mind, I want you to come up with exercises you can do outside of the gym. Try to come up with ways to train your cardiovascular system as well as your muscles. Of course, the easiest thing to do is buy a bunch of equipment you can take outside, but I'd like for those who accept this challenge to take a minimalist approach. I want you to challenge your mind … along with your body, of course! The following is a skeleton that I use when developing a full body routine.
I always like to use one or two "pushing" exercises, where your hands are moving away from your shoulders in any direction. In the gym, we do dumbbell chest presses, shoulder presses, rope pulldowns, etc. What kinds of pushing exercises can you come up with using your body weight or minimal equipment?
Next, I like to include at least one "pulling" exercise, where the hands usually move toward your body in one way or another. Lat pulldowns, bicep curls, and various incarnations of rows come to mind when I think of pulling exercises. This one is one of the hardest to do without equipment, but with some thought, I'm sure you can come up with something. If you had to bring a dumbbell or a resistance tube with you for your pulling work, nobody will fault you, though. Many people skip the pulling movements during this kind of a workout, but that's not very balanced. You could get away with it for a few workouts, but sooner or later, you have to pull!
I also like to include some leg work. Any leg exercises will do.
Finally, I like to add a full body exercise that involves more than one muscle group. This is optional, but I really like this type of exercise.
With some practice and some research, you'll get really good at working out without a gym. At that point, you'll have the confidence to workout in pretty much any scenario. When you travel, even the skimpiest of gyms will be more than enough for you.
It will feel really good when you know you can do your workout no matter what.
How did we do?

Rated 4.3 of 5 Stars by 142 readers.
Click one of the the 5 stars above to rate this article