Response to CoronaVirus (COVID-19)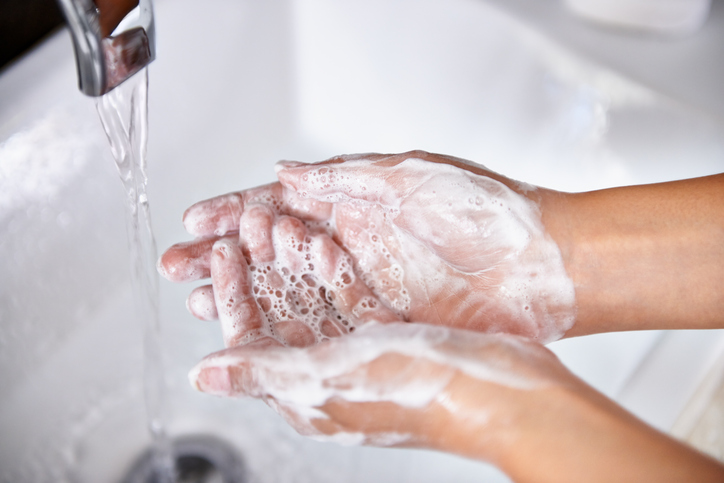 As you are aware, the world is currently facing a global pandemic by the ongoing spread of the virus known as Coronavirus or COVID-19.
There are currently no vaccinations to prevent someone from becoming infected by this virus and there is limited testing capability to determine if someone has been infected, however progress is rapidly being made on both of those fronts.
From what is currently known, the Coronavirus has about a 2% fatality rate among people who become infected. However, these numbers could also be dramatically lower, as we do not really know the total number that are infected. What we do know is that most of the world is reacting either with prudence or irrationality.
Our stance at Weight Crafters is that we are committed to being prudent, and we take the spread of any viral or bacterial infection seriously. As a licensed Health Fitness Studio, we strive to keep our clients healthy and have always gone over the top when it comes to being sanitary.
Since we are a small operation and only accommodate 6-8 clients at any given time, our ability to manage potential issues due to illness is much greater than the average hotel, restaurant or even local gym. Our small-group model, private facilities, and being associated with a residential condominium building are why Weight Crafters is exempt from current Florida closure mandates, and remains open to serve you.
For our future clients who have already booked their reservations, and for prospective clients considering attending our program, we would like you to know in detail some of the steps and procedures we have in place to limit possible exposure to the virus, and to deal with any potential infectious cases arising:
All clients are to be pre-screened prior to arrival. This means we will get on the phone and verify that the client is not showing any signs of illness to include fever, rash, coughing or other manifestations of illnesses that could be transmitted. If the client is sick, they will be asked to reschedule at a later date.


Upon arrival at our facility, you will be asked to leave your luggage outside your condo door. When you enter the condo, you will find hand sanitizer and disinfectant spray on a table directly in front of you. We'll ask that you spray down all luggage and sanitize your hands before re-entering the condo with luggage. The condos are completely disinfected and thoroughly cleaned before arrival.


Once you are checked into your condo, one of our staff will come up to greet you. Our staff will be wearing a protective mask and gloves for this first introduction, as a precaution. At that time, we will again ask you to affirm that you're showing no signs of illness, and we will visually observe your current health status. We will also take your temperature with a sanitized forehead thermometer to ensure you do not have a fever (low grade or otherwise). If all goes well, then the client will be permitted to participate in scheduled training. If it does not go well, the client will be required to stay inside of their condo until their symptoms subside, or they will be given the option to return home and reschedule at a later date.


Each morning and afternoon when you arrive at the fitness facility, your temperature will again be checked, and you will be observed for any signs of illness. Please bear in mind that it is also flu season and allergy season, so a slight cough, congestion or runny nose will not automatically disqualify a client from participating, provided they do not have a fever. They will, however, be required to wear a mask while training.
Other important points to note about attending at Weight Crafters Florida:
We do NOT allow our fitness facility to be used by the public. It is for clients, and clients only.


The fitness facility is 100% sanitized and sprayed down with Lysol and mixed bleach at the end of every workout. We have two large fans that keep continuous fresh air moving from the outside in and prevent stagnant air from gathering.


We do not offer community dining, and the meals are brought directly to your condo by our staff. Our meal preparation area is continuously disinfected.


The Skyline of Madeira building in which we are located is a small, 18 residential unit building with 5 commercial units, including 2 real estate offices, a coffee shop and then Weight Crafters in the remaining two units. The cleaning people are here 4 times per week, and are tasked with cleaning and disinfecting high traffic areas, such as elevators, doors, stairwells, etc. In addition, we encourage all guests and owners to assist with this process as possible.
In general, the information that is being given out by medical professionals and infectious disease experts varies widely, depending upon what their agenda is. From what we can gather in discussion with former clients that are MDs and other medical personnel, there are some certainties about the virus to be known.
Elderly people over 60 years old with known medical conditions (particularly those that affect the respiratory and cardiovascular system) or who are generally in very poor health, are by far the most susceptible to the effects of the virus.


Obesity in the United States is a major concern for experts due to the effect it has to decrease the immune system, as well as the inactivity and bad nutritional habits of those who struggle with obesity.


The best defense against COVID-19 is to avoid direct human contact (e.g. handshaking, etc.) with people known to have been potentially exposed. Constant washing and/or disinfecting of the hands by washing with soap for at least 20 seconds or using hand sanitizer with at least a 60% alcohol mix (both of which we provide you here) is strongly advised.


If you are coughing or sneezing, cover your mouth and nose, even if it means with your clothing in the case of an unexpected sneeze or cough. Should this occur, immediately change clothing and wash thoroughly. If using Kleenex or tissue paper, immediately dispose of it. We recommend flushing down a toilet, but trash receptacles will work as well. If you sneeze or cough and are unable to cover your mouth or nose in time, then immediately wipe down the area that was exposed and spray down with Lysol or other disinfectant spray. If you are sneezed or coughed on, immediately wash your face, hands and other parts of your exposed body, then change out exposed clothes and immediately wash them.


Keep Calm. The worst (Armageddon Level) estimates and more scientific estimates fluctuate and are so far apart that determining the real risk is like trying to untangle shade strings. Remember, all the data as of this moment is based on a mortality rate % that is unknown, because as the testing increases the number of those with the virus is rising, but the death % is decreasing. For comparison, worldwide deaths in 2018 from people killed driving on the roads was nearly 2 Million. So, yes, we need to be prudent and take precautions, but we should also not overreact, even though it is to be taken seriously. The virus is in fact a well-known throat virus that became mixed with an animal virus, originating in China's wet markets and there have been strains of it before, hence it being called COVID-19 for this latest version arriving in 2019.
The best way to stay healthy is to take care of your health, lose weight, remain active, build strength, eat healthy, build up your immune system and decrease stress and anxiety in your life. That is why people come here, in order to accomplish those fitness goals. It stands to reason that your health may indeed be much safer by attending our program as opposed to not, in our humble opinion - but each person must make their own choices.
---
For further, updated, ongoing details about COVID-19, please see this site:
https://www.statista.com/topics/5994/the-coronavirus-disease-covid-19-outbreak/
---
If you have any additional questions or concerns, please feel free to call us or email us at:
Weight Crafters
Madeira Beach, Florida
888-983-3835
info@weightcrafters.com

Disclaimer:
Please note that Weight Crafters is not a medical facility, and we do not claim to be medical experts or experts in the field of infectious diseases. It is always best to consult your physician before attending this type of program, regardless of whether there is a pandemic viral outbreak or not.
How did we do?

Rated 5 of 5 Stars by 16 readers.
Click one of the the 5 stars above to rate this article