Follow me on flashback to my undergraduate years, won't you?
In school, we used to talk incessantly about different muscle fiber types.
Muscle fibers are muscle cells, known as fibers because of their long, string-like appearance. There are three basic types (some scientists claim more, but for our discussion, three will suffice).
The slow twitch fibers are also known as slow-oxidative or Type I. These are really good at aerobic work because they are really good at using oxygen and they take a long time to fatigue, therefore they tend to use fat as a main source of their fuel.
The other end of the spectrum would be the fast twitch fibers, aka fast-glycotic or Type IIb. Type IIb fibers are very strong, but fatigue quickly. These fibers tend to use more carbohydrates as fuel. We discussed these two fiber types and their relative contributions in different activities ad nauseum.
There was a third type that we learned about, but didn't really put much emphasis on - Type IIa. Type IIa fibers are called fast-oxydative-glycotic. They are kind of a hybrid of the other two types. They are very strong and they last a long time. They can use fat and carbohydrate for fuel. In a sense, they are like super muscle. We always kind of glossed over this fiber type, as if some people were just lucky enough to have these and the rest of us got screwed out of them.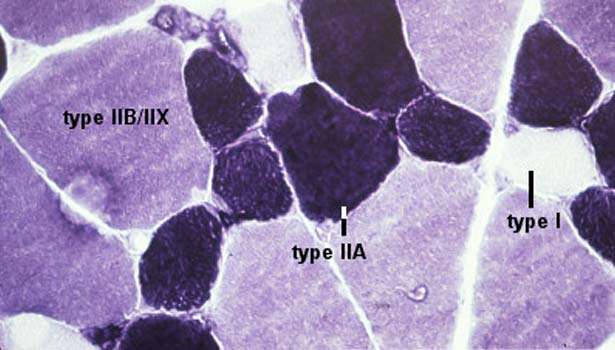 In fact, we all have all three types.
Each of us have a higher concentration of one type or another, but if we concentrate our training on the Type IIa fibers, we train those, and the others begin to take on characteristics of them, in a sense becoming more like the super muscles!
In school, we always talked about Type I being for cardio and Type IIb being for strength. If Type IIa is kind of a hybrid muscle fiber, then we need to train them with a hybrid exercise protocol. I like to use very functional, full-body movements that cause you to use a lot of strength and apply it for a long period of time. Is this type of exercise exhausting? Sure, but boy is it effective at shredding the fat!
The type IIa muscle fibers are stimulated by this type of training, but let me get a bit more specific. We don't need truly maximal strength, like we do for they Type IIb fibers, and we don't need long, long duration like we do for Type I fibers. We need more along the lines of 40%-80% of our maximal strength for about 20-120 seconds at a time. We need to minimize our rest periods (they will start out a bit longer and get shorter as you become more fit).
Essentially what we've done is combine our strength training with our cardio and eliminate our rest periods. This causes our desired effect of training (yes, burning some calories, but also stimulating the release of our fat-burning hormones) to be achieved very quickly.
How quickly? How does 15-20 minutes grab you? You can get an awesome workout that achieves the desired fat loss effects you've been looking for in less than half the time of a conventional workout.
I've really been researching this concept lately, and I'm liking what I see. Not to say that I'm abandoning the conventional thinking, but I think we can add this to our exercise routines in an attempt to make us more comprehensively fit.
Keep your eyes pealed on this blog for some workouts that employ this strategy.