The #1 Rated Weight Loss & Fitness Camp in America!
Are you ready to divest yourself of anxiety and stress and invest in wellness and restoration? Travel to America's #1 Weight Loss & Wellness Retreat!
Turn your Weight Loss & Fitness Journey into an All-Inclusive Weight Loss & Fitness Vacation!
Come visit us from Canada and return home a changed individual!
Weight Crafters is the undisputed #1 Weight Loss & Fitness Camp Destination for folks living in Canada.
At the Weight Crafters Weight Loss & Fitness Camp you will be provided with:
Empathetic, Certifed Personal & Group Trainers with combined decades of experience, specifically geared towards a professional Fat Camp setting.
Nutritious and great tasting meals and snacks
Nutritional Education to include healthy shopping lessons
Massage Therapy Session
Award Winning Hotel Accommodations
State of the Art Private Training Facility
Individualized attention for those struggling with physical limitations and ailments.
Life Coaching to help guide you mentally and emotionally on your journey towards a healthier life style.
Post follow up support and plan




Immersive Complete Health Reboot
Distraction Free Environment
Structure and Accountability
Exercise, Training & Meals Provided
Expert-Led Programs Backed by Extensive Research
Results-Driven Weight Management Process
Safe, Low-Impact Techniques for Overweight, Obese and Senior Needs
Best health results of any type of weight loss program
Practical skills, knowledge, and support to help you establish healthy habits for life

Our clients from Canada love travelling to us and escaping their everyday and life and letting us take care of them so they can focus on their health and wellbeing. Giving you the opportunity to have a solid reboot into a better, healthier lifestyle and frame of mind.
Whether you're looking to re-energize your body, get fit and renew your mind, or you need help losing a substantial amount of weight – we're here to help. In operation since 2007, the Award Winning Weight Crafters Weight Loss & Fitness Camp sets the standard for immersive weight loss retreats for all of our clients from Canada, by providing powerful health and wellness results at fair, honest and affordable rates.
Come spend some time with us and make your wellbeing a priority at Weight Crafters.
Weight Loss & Fitness Camp Before & After


Samantha lost 96lbs at Weight Crafters
"I initially signed up for 4 weeks, as I had a substantial amount of weight to lose and just was looking to get a head start on bettering myself and getting myself on track to start my career. I ended up staying much longer and have returned many times since I left for maintenance.
The trainers were fantastic, although there were other people in the training session I never felt neglected. The food was delicious and the staff was knowledgeable and attentive to everyone's varying needs.
I would recommend this fat camp for anyone no matter how much weight needed to be lost or how young or old. Very knowledgeable, professional, and caring team."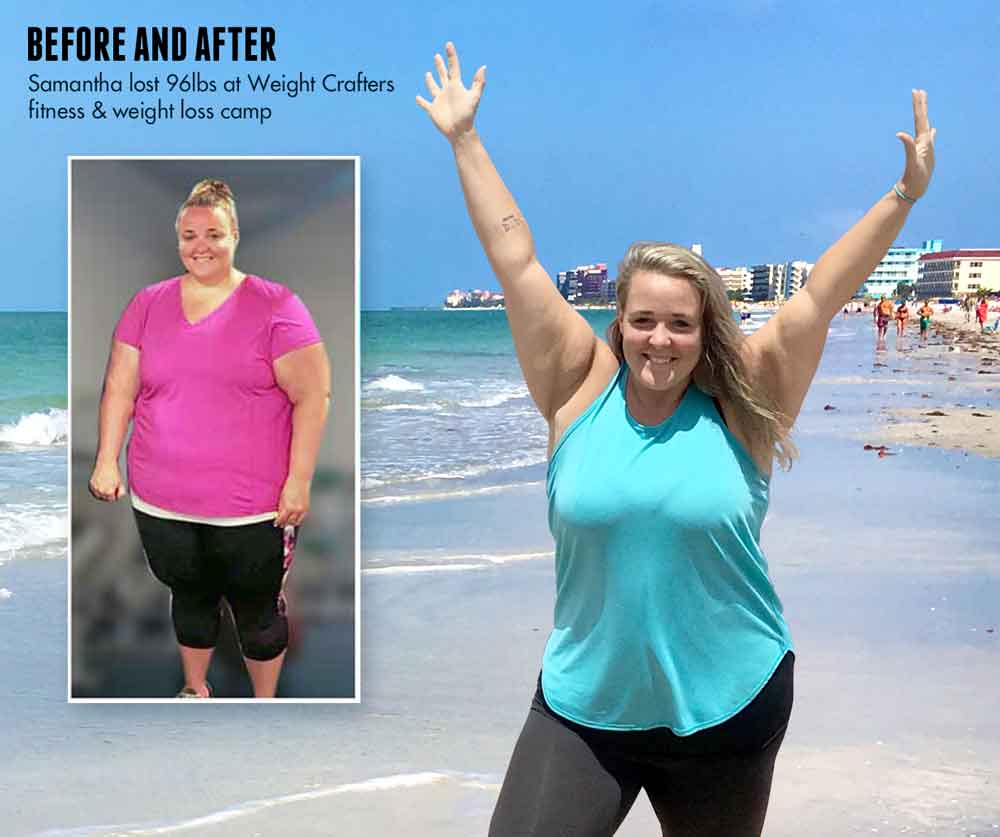 What It's Really Like to Attend Weight Crafters
A Practical, Affordable and Positive Wellness Retreat Experience
All-Inclusive Rates
Comfortable Accommodations at The Courtyard by Marriott
Deliciously Prepared Meals
Expert Guidance
Amazing Results
Expert fitness guidance, wholesome meals, a refreshing Gulf Coast setting, and a structured, supportive environment will help you change the course of your overall health and wellness.
Take some time to invest in yourself.
With so many options, why leave Canada and travel to the Weight Crafters Weight Loss Camp?
There are many Fat Camp, Weight Loss Camp & Fat Farm programs out there that have sprung up over the last couple of years. Some of them are good and knowledgable and worthy of consideration, many are not.
The best way to evaluate the right kind of Fat Camp for you is to determine what it is you want to accomplish, what climate you want to be in and how much do you want to spend. Lastly, what is their history of success as a Fat Camp?
We believe that the Weight Crafters Fat Camp is the #1 Rated Fat Camp in America and residents from Canada will tell you that it is for good reasons and therefore, should be the choice you make if you want -
A proven track record for over 15 years
A good price, well below other competitors offering the same or less
A Beautiful Hotel to stay in while you attend
A State of the Art Fitness facility designed specifically for Fat Camp clients and functional adaptive fitness.
Beautiful Climate and Surroundings
Experienced and Empathic Staff
Good Food without being starved
Solid Education about Nutrition and Exercise
Life Coaching that is Practical and Applicable
Solid Friendships and Follow up Support with a Caring Team of dedicated Fat Camp Professionals.
What happens when I arrive at the Weight Crafters Weight Loss & Fitness camp?
Well, all Fat camps or fat farms are residential retreats where people struggling to get fit or lose weight come to obtain their weight loss and fitness goals, and do so in an environment that reduces their everyday stress and therefore, leaving their local area is particularly attractive and effective in order to accomplish this.
At Weight Crafters Fat Camp for Adults & Seniors, our program is designed for adults of all ages and fitness levels to include obese and senior clientele. We have set up an environment that allows you to get away from your everyday routine and focus entirely on fat reducation, losing weight, improving strength, mobility, energy levels and over-all health, we have been able to help our clients from Canada achieve great results and turn a new leaf towards a healthier lifestyle.
The combination of our healthy meals, exercises, calorie intake monitoring, fat reducation techniques and overall wellness serves to help you achieve a maintainable weight loss and fitness regiment. At Weight Crafters, our #1 priority is helping you form habits and behaviors that are life-changing and sustainable.
A Typical Day At A Weight Loss Retreat
A nutrient-dense breakfast
Morning exercise and fitness activity
Lunch delivered to Courtyard by Marriott
Afternoon fitness activities
Delicious dinner entrees prepared and delivered to Courtyard by Marriott
Flexible down-time for rest, massage or a walk on the beach





How much does it cost to go to Weight Crafters Fat Camp for Adult & Seniors
At the Weight Crafters Camp you will find some of the most reasonable and in most cases, the lowest rates in the industry and cheaper than programs in Canada. The costs to attend our programs range from $2,499 per week to as high as $3,499 (depending on Seasonal Rates, Specials, Applicable Discounts, Length of Stay and Chosen Options) and we provide all-inclusive rates - There are no hidden fees or charges in our pricing that are not listed on our site.
How much fat weight can you lose at Weight Crafters Weight Loss & Fat camp?
This question, when isolated to that one specific point, is often asked inappropriately because it only focuses on one outcome and not on the reality of what the goals of a fat camp program actually are. Fat loss during your stay is not the only priority of any legitimate Fat Camp that understands fitness, nutrition and overall wellness. The appropriate questions to ask are:
How much body fat can I reduce over a period of time?
How much lean muscle can I build over a period of time?
How many inches of mass can I deduct over a period of time?
How much inflammation can I reduce over a period of time?
How much can I improve my cardio, my strength, my endurance, my flexibility and mobility over a period of time?
How much weight can be lost over a period of time?
Will I be able to maintain my progress when I return home?
Etc.
The focus is not just on losing weight at the program, but to build the skills, knowledge, discipline and will to live a healthy and fit lifestyle when you leave the weight loss or fat camp program. Each person is different and so their results will be different. In most cases, the determination of the client and their ability to work hard and focus is the main factor. In other cases, they may be limited by hormonal issues, physical limitations or emotional disorders.
The focus here at Weight Crafters Fat Camp for Adults & Seniors is to provide the tools, the education and the support to accomplish your goals. No program can tell you with certainty what your outcome will be - and if they imply that they can, then you probably want to move on to the next place, in our humble opinion.
Yes. Fat Camps work, because they do what they are designed to do, which is to jump start your Weight Loss, Reduce Fat, Balance Nutrition, Indoctrinate Discipline, Stabilize Insulin, Strengthen Muscle, Improve Flexibility and Reduce Inflammation. They are where you go to get yourself started down a path of Better Heath, Better Fitness and a Better You!
Are weight loss camps worth it?
Weight Loss Camps are definitely worth the investment, if you intend to maintain and foster that investment. No different than investing into a home, vehicle, education or a relationship. The value of if ultimately comes down to whether or not you care for it and intend to appreciate what you have invested.
What is the most effective type of weight loss camp program?
The best Weight Loss Camp program for you will depend on your individual needs. Universally however, a good fat camp program shoud be designed by experts, with a strong focus on balanced nutrition, regular exercise, long-term goals and accountability.
When did weight loss camps first begin?
Weight Loss Camps are a very specialized form of health spa (sometimes referred to as a Fat Camp, Weight Loss Resort, Fat Farm or Weight Loss Retreat) - a broad concept that has been evolving since our earliest recorded civilizations, dating back to the Greeks and Romans. The earliest Fat camps in modern culture were called "fat farms", and were multipurpose rehab centers, where individuals could get away from the world to quit drinking, or smoking, or lose fat and weight.
More about Weight Loss Camp
A fat camp, weight loss camp, or fat farm is a type of residential program where people who are overweight or obese go to lose weight through exercise and lifestyle changes.
Learn More:
More Information About
Weight Loss for Adults
In a nutshell, maintaining a healthy weight offers the following benefits:
Slowing or preventing the onset of Type 2 Diabetes
Improvement in Hypertension (high blood pressure)
Improved cardiovascular health
Reduced joint pain and increased mobility
Weight loss is the main treatment for obesity.
There is substantial evidence that a 7-10% weight loss can prevent progression from pre-diabetes to type 2 diabetes. A 5-15% weight reduction can also manage cardiovascular risk for diabetics. And even a 10% reduction in weight can in some cases reverse Type 2 Diabetes into full remission. [1]
Health risks are reduced, [2] fitness is improved, [3] and diabetes may be delayed with weight loss in overweight or obese people. People with osteoarthritis of the knee may benefit from it since it can reduce pain and increase mobility. Hypertension can decrease with weight loss.
Depression, stress, or boredom may contribute to weight gain, [4] and if this is the case, individuals are encouraged to seek medical attention. According to a 2010 study, dieters who had a full night's sleep lost twice as much weight as those with inadequate sleep. [5]
Over the long term, most dieters regain weight. [6] The Dietary Guidelines for Americans state that those who achieve and manage a healthy weight successfully do so by carefully consuming only the necessary number of calories and being physically active. [7]
Adopting a diet in which you consume fewer calories than you burn helps you lose weight. [8] Dietary and lifestyle changes must be permanent however, to make weight loss permanent. Counseling and exercise by themselves do not result in weight loss. Dieting alone can result in weight loss, but only combining diet with exercise provides the best results. [9]
More About Canada
Canada is a country in the northern part of North America. Its ten provinces and three territories extend from the Atlantic to the Pacific and northward into the Arctic Ocean, covering 9.98 million square kilometres, making it the world's second-largest country by total area.
© 2007-2023 Weight Crafters, LLC. All Rights Reserved.